Main content starts here, tab to start navigating
Menus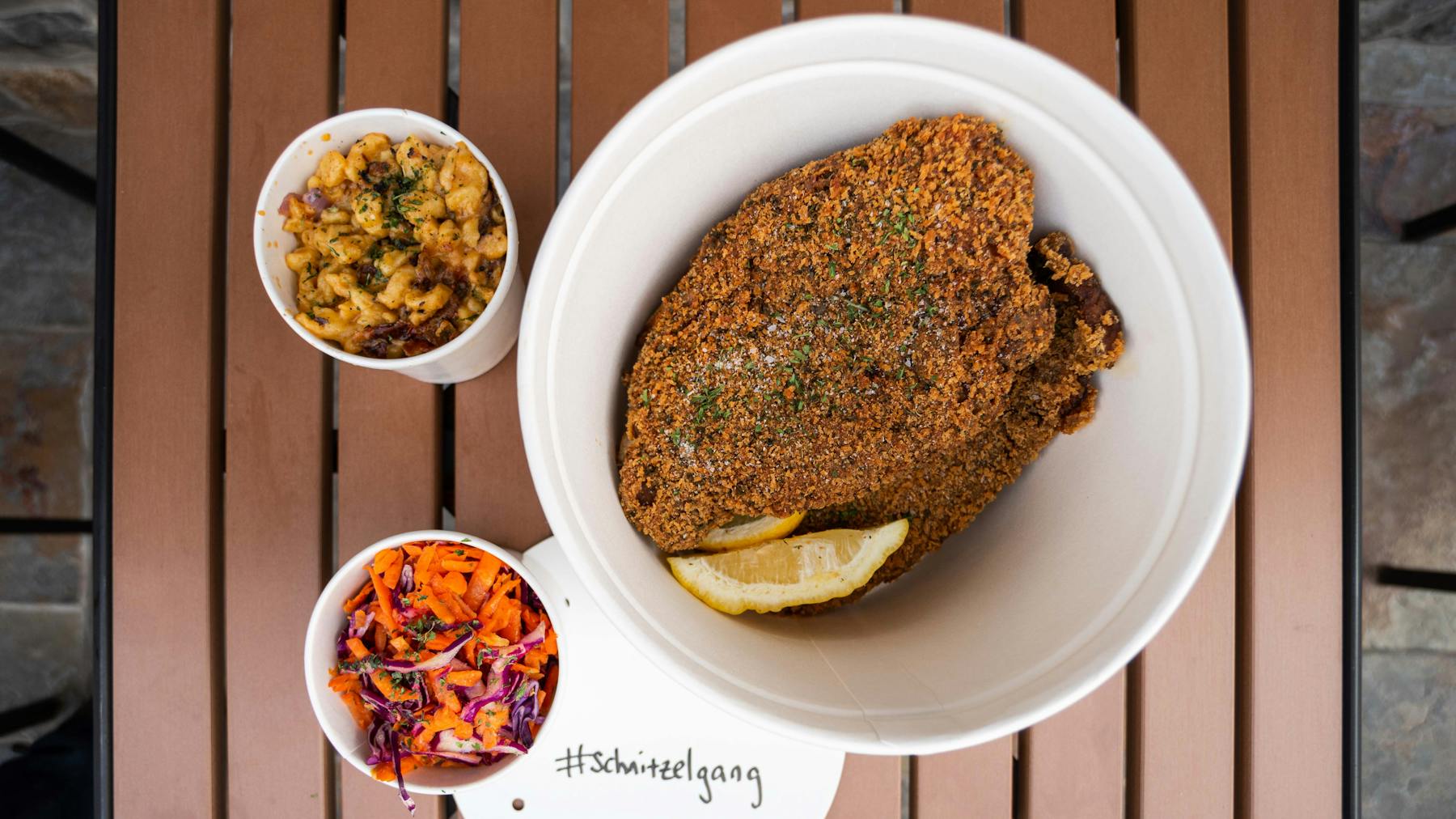 Limited
Happy Hour Platter

Your choice of (4) any combination of schnitzels and wursts, 2 orders of potato cakes, and 2 pretzels

$35
Schnitzels
Pork Schnitzel

paprika-marinated pork cutlet, fried with panko breadcrumbs or grilled (gf)

$8

Kebab $3

Sandwich $3.50

Plain $0

Chicken Schnitzel

paprika-marinated chicken breast, fried with panko breadcrumbs or grilled (gf)

$7

Kebab $3

Sandwich $3.50

Plain $0

Eggplant Schnitzel

paprika-marinated eggplant, fried with panko breadcrumbs or grilled (gf, vegan)

$5

Kebab $3

Sandwich $3.50

Plain $0

Falafel

three large chickpea balls, rolled with fresh herbs and lemon juice (v)

$5

Kebab $3

Sandwich $3.50

Plain $0

Bucket of Schnitzel

Any (4) combo of chicken, pork, eggplant or falafel. Served with (2) large sides.

$40

Make it Sekt-sy (Sekt is German Bubbly Wine) $18

JagerSchnitzel

Vegan mushroom gravy over your schnitzel of choice. Served with 2 small sides.

$21

RahmSchnitzel

Vegetarian white wine-cream sauce over a schnitzel of your choice. Served with 2 small sides.

$21

Balkan Schnitzel (Coming Soon)

Peppers & onion tomato gravy (vegan) over your choice of schnitzel. Served with two small sides.

$21
Wursts from Binkert's
Optional add-ons: Hank's Pretzel Roll $3.00 Red Cabbage Topping $1.00 German Slaw Topping $1.00 Free sauces include: Dijon Mustard, RK, Curry Ketchup, Regular Ketchup, Honey Mustard
Bauernwurst

pork sausage with mustard seeds

$6

Currywurst

pork sausage with spices

$6

Käsekrainer

Pork sausage with cheddar cheese

$6

Bratwurst

Pork sausages with herbs

$6

Weisswurst

Veal sausage with parsley

$6

Wurst Platter

One (1) each of Binkert's wursts for a total of five (5). Served with (2) large sides and sauces (Dijon Mustard, Honey Mustard, Curry Ketchup, RK, Regular Ketchup).

$40
Sides
Add Small Side: $5 Add Large Side: $7
German Fries

dusted with curry powder, served with RK Sauce (vegan)

Red Cabbage

braised to perfection (vegan, gf)

German Slaw

shredded red cabbage and carrots tossed with our house dressing (vegan, gf)

Roasted Broccoli

served with caramelized onions, drizzled with apple cider glaze (gf, vegan)

Spatzle N' Cheese

cheesy egg pasta with sauteed onions (vegetarian)
Snacks
Hank's Butter Pretzel

sprinkled with salt and served with cheddar sauce (v)

$5

Crab Pretzel

Cheesy Crab Dip melted on top of Hank's Pretzel. Add Bacon +$1.

$11

RK Salat

green leaf, tomato, red cabbage, carrots, cheddar, pretzel croutons (v) dressings: lemon vinaigrette, honey mustard, ranch. Add Bacon $1.

$5

Potato Cakes

shredded potato, onion, eggs, served with a side of creme fraiche. Add Bacon $1.

$5

Flammkuchen

german-style pizza, creme fraiche, cheddar, sauteed onions (vegetarian). Add Bacon $1.

$5
Sweets
Also available: Dallmayr Prodomo German Coffee $4.00
Apple Strudel

$7

Scoop & Paddle Black Forest Ice Cream Sandwich

$6

Scoop of Ice Cream or Sorbet

Madagascar Vanilla Ice Cream or Raspberry Sorbet

$3
Specialty Non-Alcoholic Drinks
Peach Shrub Cocktail

hand-picked Larriland peaches, apple cider vinegar, club soda

$4
For Pups
Kaiser Pup

grilled un-marinated chicken or pork (our decision), plain spatzle pasta, broccoli and shredded carrots

$7
Sancte Augustine, ora pro nobis.
Cocktails
$8 for a single serving (patio/dine-in only)
$14 for a small container (2 servings)
$25 for a large container (4 servings)
JAGER OLD FASHIONED

bourbon, Jaegermeister, spiced bitters

ALTER FREUND

rye, amaro, dry vermouth

BERLIN STREET (KURFURSTENDAMM)

brandy, bitters, lemon

DUNKEL + STURM

rum, falernum, allspice, lime, ginger beer

GOLDEN PEAR

tequila, pear nectar, lemon, honey, cinnamon

PEACH PIT

vodka, peach, black tea, club soda, lemon

CORNFLOWER

gin, plum brandy, violet, lemon

HUGO STIGLITZ (LOW ALCOHOL)

elderflower, sekt, soda
Sanctis apostolis Petro et Paulo, orate pro nobis
Package
Munich Lager

Hofbrau, Germany

$4

Bavarian Lager

Arcobrau, Germany

$4

Pilsner

Flensburger, Germany

$7

Pale Ale

Kostritzer, Germany

$5

Kolsch

Fruh, Germany

$7

Festbier

Hofbrau, Germany

$4

Hefeweizen

Paulaner, Germany

$5

Pineapple Radler

Waterloo, Canada

$4.50

Dunkel

Warsteiner, Germany

$4

Schwarzbier

Kostritzer, Germany

$4

Apple + Pear Cider

Fuchshof, Germany

$7

Non-Alcoholic

Erdinger, Germany

$3
Sancte Michaeli archangelo, defende nos in proelio
We carefully select each wine that belongs on our list. We focus on small production, family-owned estate wineries that prioritize the cultivation of their fruit. Many of our producers practice sustainable, organic, or biodynamic farming methods.
Vetter Holiday Pack
I can't talk about Stefan Vetter without grinning ear-to-ear. This dude makes almost no wine. I am so ecstatic to have four cases of his wine. His vineyards are located on limestone terraces in FRANKEN. Where, you ask? Exactly. This wine region is practically unheard of in the commercial wine world. Yet, it's usually places like these that offer THE best value. When you taste these wines, you'll be amazed at how relatively cheap the wines are. Stefan grows organically, harvests by hand, and of course makes his wines without any sort of added chemicals. His wines are fresh, bright, and a perfect compliment to that heavy Thanksgiving dinner. His wines also have an odd tendency to pair really well with football. Even though they can be had individually, I highly recommend trying all four for $100 - an insane savings of $33.
Organic Franconian Apple Cider

Vetter, Franken, Germany

$24

Organic Muller-Thurgau

Vetter, Franken, Germany

$28

Organic Portugueiser

Vetter, Franken, Germany

$32

Organic Pinot Noir

Vetter, Franken, Germany

$49
Wines by the Glass
Elbling Sekt

Hild, Mosel, Germany

$12

$24

Sparkling Zweigelt Rosé

Markus Huber, "Hugo," Niederösterreich, Austria

$12

$24

Pinot Blanc (Certified Organic)

Brand, Pfalz, Germany (1.0L)

$12

$24

Semi-Dry Riesling

Urban, Mosel, Germany

$10

$20

Dry Riesling

Seehof, Trocken, Rheinhessen, Germany

$12

$24

Gruner Veltliner

Barbara Ohzelt, Kamptal, Austria

$13

$26

Un-oaked Chardonnay (Certified Organic)

Brand, "Electric Acid Test," Pfalz, Germany

$13

$26

Sauvignon Blanc (organic)

Villa Wolf, Pfalz, Germany

$11

$22

Rose of Red Blend (Biodynamic)

Beurer, Wurttemburg, Germany

$13

Pinot Noir (Organic)

Shelter, "Lovely Lilly," Baden, Germany

$13

$26

Blaufrankisch (Biodynamic)

Judith Beck, Burgenland, Austria

$13

$26

Dornfelder (Semi-Dry)

Valckenberg, Rheinhessen, Germany

$9

$18

Red Blend

Roterfaden & Rosswag "Terraces," Wurttemberg, Germany

$12

$24
Kaiser List - Bubbly
Sparkling Pinot Noir Rosé (certified organic)

Domaine Migot, "Methode Traditionelle," Moselle, France

$26

Organic Pet-Nat Rose

Brand, Pfalz, Germany

$28

Organic Pet-Nat

Brand, Pfalz, Germany

$28
Kaiser List - White Wine
Gruner Veltliner (Featured Wine - Limited)

Chehalem, Ridgecrest Vineyard, Ribbon Ridge, Oregon - Gruner Veltliner is the star white grape variety of Austria but grows surprisingly very well in Oregon. Unlike most commercial wines, this particular wine comes from a single site - the Ridgecrest Vineyard. The Ridgecrest Vineyard is the Stoller family's oldest vineyard, planted in 1982. The Stoller's winery's name, Chehalem, is Native American for Valley of Flowers. And they pay homage to the heritage of the land by practicing sustainable farming practices. Chehalem is certified Salmon-safe. Look for ripe green apples, stony minerality, and a splash of cool cucumber and white tea that is typical of Gruner Veltliner but uniquely Oregonian.

$28

Dry Riesling (Biodynamic)

Weiser-Kuntsler, Mosel, Germany

$30

Off-Dry Riesling

Peter Lauer, "Fass 4," Saar, Mosel, Germany

$29

Off-Dry Riesling

Vollenweider, "Wolfer Goldgrube," Kabinett, Mosel, Germany

$35

Dry-ish Riesling

Julian Haart, "1000L," Mosel, Germany

$19
Kaiser List - Rosé
Rose of Pinot Noir

Migot, Cotes de Toul, France

$26

Rose of Pinot Noir (Magnum - Large format)

Stein, Mosel, Germany (1.5L)

$64
Kaiser List - Red Wine
Teroldego

Floral Terranes, Long Island, New York

$34.50

Portugueiser

Vetter, Franken, Germany

$32

Pinot Noir

Vetter, Franken, Germany

$49
Kaiser List - Sticky
Rieslaner Auslese

Keller, Rheinhessen

Riesling Auslese

Keller, Rheinhessen, Germany

Rieslaner Auslese

Darting, Pfalz, Germany